Washing table with large kitchen sink and shelf - MS 11.V Z.L and 11.V BL.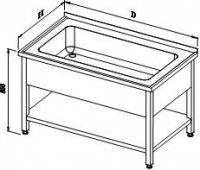 Example size: 1200 x 600 mm (length x thickness), sink size: 1000 x 400 x 280 mm
the according to the specific requirements of customer
Washing table with large sink and shelf
product is made from stainless steel material
11. V ZL - work bench with raised back edge (ZL) back is 40 mm
11. V BL - work bench without raised back edge
basic height is 850 mm
height adjustment ± 15 mm
table legs (stainless steel frame 40x40) are 20 mm from edge of table
molded sinks on the right side (P)
molded sinks on the left side (L)
position of sink must be specified in order
shelf position is 150 mm from floor
A

dditional

information
More information about prices and dimensions on the phone number: +420 565 301 616, or e-mail: obchod@neza.cz - NEZA business department.