Cooled counter display case - VCHP type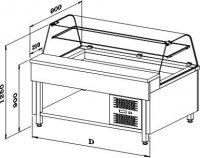 the according to the specific requirements of customer
Display cases are made from stainless material 1.4301 and bended glass.

downgrade bath bottom for better insight of display (exhibited goods)
- standart height - 850 mm, (legs of display case - 150 mm), all height - 1300 mm
unit should be on the left side - L, or on the right - P (on the picture - right side - is from staff sight)
bar is made from stainless worktop - depth 200 mm (by all depth 900 mm)
stands with sliding or wing door, eventualy by customer wish
power supply 0,5 kW
on the front and back sides are ventilation grids, which must be uncovered for good work of cooling system!
temperature regulation + 10°C to 15°C (in outdoor temperature 25 °C)
A

dditional

information
More information about prices and dimensions on the phone number: +420 565 301 616, or e-mail: obchod@neza.cz - NEZA business department.